We can help keep your fleet on the road!
​
We are specialists in heavy duty transmission

s. Through our fleet vehicle maintenance program, we have helped many local businesses with a vehicle maintenance program that meets their unique requirements.
If you are hauling heavy loads, we can add essential transmission coolers, and use synthetic transmission fluid, to help your transmissions last longer.
If you have high mileage vehicles such as for sales reps, we can provide more frequent transmission servicing. And when your stock transmission just isn't enough, we can upgrade your transmissions and make them stronger. Let us show you how we an help you keep your service vehicles on the road! Call
(209) 551-4050
today!
City of Hughson - Police and Fleet
Tuolumne Utility District
International Surfacing
and many other local businesses including pool companies, pest control services, alarm companies, construction companies and delivery services.

We know how important it is for you to keep your vehicles on the road. We would love the opportunity to meet with you to go over the transmission needs of your company. We can offer many different ways to help your company. We can set up a service plan that works with your busy schedule. We can keep the transmissions you need in stock, to be able to give you a quick turnaround should one of yours fail.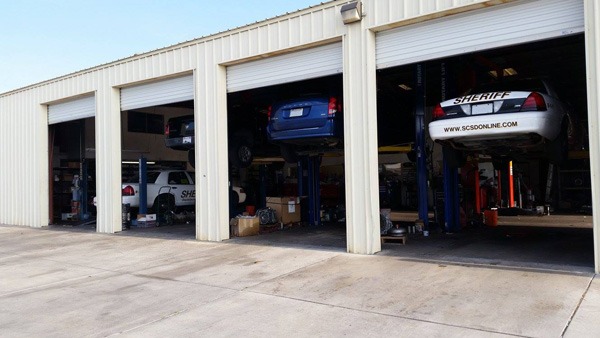 Clutch & Transmission Technicians routinely scans and road tests each fleet vehicle, while it is in for routine service, which helps catch minor transmission problems before they become major ones. This alone has proven to be one of the most appreciated services to our fleet accounts, as it not only helps prevent major repairs but keeps the vehicle from being down when you may need it the most.
Automatic Transmission Service
Transmission Maintenance is the number one thing to remember, when it comes to keeping your vehicle fleet on the road.
Older 3-speed transmissions were sturdier than today's transmissions, and had no solenoids to stick and fail. Today's transmissions, however, are fully electronic and have solenoids inside them that are constantly opening and closing. The valve body is also more prone to getting stuck valves. The major reason for automatic transmission failure today is dirty transmission fluid. And servicing your automatic transmission is a high priority in keeping your fleet "on the road".
Call our fleet manager today to find out how we can help you
(209) 551-4050
.